Harvest Dinner in the Vineyard
SEPTEMBER 28, 2019
5pm to 8pm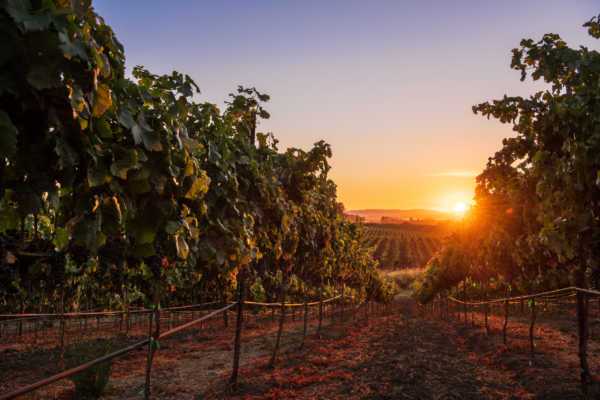 Please join us for our annual Harvest Dinner in the Vineyard. This is a formal four-course wine dinner held on our spacious lawn surrounded by lush vineyards and bountiful grape clusters. Our guests of honor, Winemaker and Assistant Winemaker, Brian Mox and Eric Heikell, will explain their winemaking philosophy behind each meticulously hand-crafted wine that you will enjoy alongside your dinner.
When: Saturday, September 28th at 5:00pm
Where: 5055 Solano Ave., Napa, CA 94558
Price: $150 per person for wine club members/$190 per person for non-members
The chefs from Elaine Bell Catering have created an exquisite, mouth-watering menu that is designed to pair perfectly with each of our wines. As much as you'll want to savor each bite, it will be nearly impossible to put down your fork and glass. Elaine Bell Catering sources fresh produce and sustainably-raised meat from local farms.
Hors d'Oeuvres
Main Lobster Tarragon Salad Mini Eclairs
Fontina Cheese Risotto Arancini with Basil Aioli
Chiogga Beet Poke with Pea Shoots, Shiso, Togarashi, and Fried Nori Chip
First Course
Salad of Baby Organic Greens with Balsamic Roasted Black Grapes, St. George White Cheddar, Spiced Black Walnuts, Fuji Apples and Balsamic Apple Cider Vinaigrette with Basil Oil

Main Course
Grilled Skirt Steak with Crispy Fried Onions (Grilled Onion Reduction Sauce, Trio of Asiago Souffle Potatoes, and Haricots Verts and Rd Pepper Strips)
OR
Crispy Seared Salmon with Creamy Leek Fondutta (Pine Nut Roasted Marble Potatoes, Yellow Squash Pearls, Butter Braised Baby Carrot and Caramelized Pearl Onions, and Frizzled Leeks)
OR
Vegetarian Layered Terrine (Roasted Eggplant with Zucchini, Tomato, Fontina Cheese, Basil, Curry and Garlic, Served with a Rich Tomato Sauce and Fresh Garden Vegetables)

"Sweet Endings"
Warm Cashew Caramel Tart with Candied Orange Rind
Coffee and Tea
* Menu subject to change depending on availability of ingredients
To RSVP, you can send an email to madeleine@lairdfamilyestate.com, or you can call the tasting room (707) 257-0360 x26. Please RSVP no later than Monday, September 23. There is a 50 person maximum, RSVPs will be accepted on a first come, first serve basis. Payment will be accepted at the time of RSVP and is non-refundable.
We look forward to seeing you!